Calhau Grande

Madeira Rural Cottages
Philosophy
We think and build green to keep the rural and natural experience alive!
Since our family started restoring the traditional houses in Arco da Calheta, one of our main goals is to respect the existing natural landscape. All additions and modifications are carried out with the minimum impact in order to build a harmonious place with a proper integration into nature. Defending the natural environment is a big concern to us. Therefore, all the works are done in proportion to create this haven with good ecological footprint. Calhau Grande is a family project and we love to share with our guests the essential of a Madeiran rural live, sharing with you a little part of our dream. We hope that these small actions can help to raise awareness of the local community and our visitors to protect the natural resources and environment of Madeira island.
Built Environment
Our family father, Eleutério, is a house builder and specially loves to bring new life to antique houses and objects. His expertise in choosing the correct rehabilitation techniques and materials to revive the traditional construction art is crucial to maintain the typical Madeiran dry-stone architectural design here in Calhau Grande. The position of the new structures and swimming pool were carefully thought to avoid negative impact in the countryside surroundings. They were built predominantly in stone, steel and local wood and are naturally decorated.
Natural Eco-System
We try to balance the built area with as many green areas as possible and we keep these spaces colourful with local flowers and indigenous plants. As we are lucky to have some natural springs in our gardens, all the water is collected and accumulated on a well. Al the orchards and gardens are irrigated with this resource, so we don't have to waste potable water. Apart from being an ecological measure, the well is also the natural habitat for singing frogs and different quiet fish species.
Eco-Living
Calhau Grande has a wonderful solar exposure and the temperature is always mild. For this reason, we give preference to ample glass walls, providing natural light and warm temperatures as well as good views over the Atlantic Ocean to all cottages. As they are also origin built with basaltic stone, their interiors are correctly insulated from climatic changes, so there is no need to implement air conditioning devices. Also, we love to keep in touch with nature and explore our splendid island and, therefore, we reduce the use of electronic devices such as televisions and computers. Nothing better than enjoying nature at its best without any worries.
Eco-Friendly Measures
- We use as many natural products as possible and employ materials with fewer chemicals;
- We collect our organic waste, treat it ecologically and use the compound in our orchards and gardens as fertilizer;
- We produce our own electrical energy for appliances and for water heating. We use solar and photovoltaic panels. We are proud to let you know that, at this moment, we are self-sufficient only with the natural renewable resources;
- We use low energy appliances and low wattage lamps;
- Outdoor artificial lighting only available until midnight;
- In terms of laundry service, as we are situated in the countryside with clean and fresh air, all the linen and towels dry with sun exposure. The cleaning products are also eco-friendly;
- All the wooden furniture of the cottages, as cabinets, wardrobes, tables and chairs, were made by hand by Eleutério, recycling old wood of good quality. Most of the decoration elements are antique and restored by us.
Activities & Experiences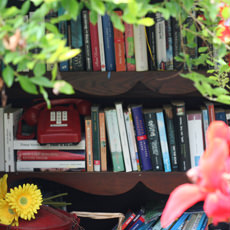 Urban project: "Le Chemin du bonheur"
Special Thanks to: Eva Gouveia; Eleutério Gouveia; Sofia Gouveia; Pedro Gouveia; Catarina Teles; Fábio Freitas; Mónica Carreira; Magno Carreira; Laura Buraco; Laurent Gillet; Marie Gillet and Francis Launey.

Video: Catarina Teles | Pedro Gouveia